Donating together
Caritas stands up for people in a multitude of ways. Irrespective of their social, national or religious identification, Caritas advises, accompanies and supports victims in difficult living situations, those who are ill or handicapped, after accidents or disasters.
Caritas consists of its full-time employees, but most of all the approximately 40,000 volunteers in Austria, and the courageous and professional efforts they make every day.
All over the world, more than 160 Caritas organisations serve humanity.
For many years, Bank Austria has supported the work of Caritas, in order to give people in need hope once again, and enable the prospect of living a worthy life.
With CashBack Online, every customer of Bank Austria can donate the amount returned to them from a purchase to Caritas, among others.
"My desk is doing good deeds!"
UniCredit Bank Austria and Caritas are processing the largest non-cash donation in the aid organisation's history.
With the joint initiative 'My desk is doing good deeds!', we and Caritas, in cooperation with the Austrian Federal Railways, realised the largest non-cash donation Caritas has ever received in Austria, with a total of 20,000 pieces of furniture. Our furniture will now either continue to be used in Caritas facilities, sold in the Caritas shops or auctioned in Europe-wide online auctions for a good cause.
Read more in the press release.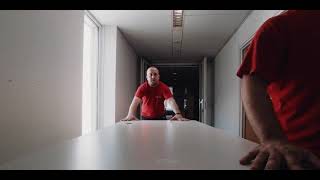 Play
Cage League
Cage League: more than just football
Living together and getting along is not child's play, but with the right setting and a couple of rules, it works like a football match.
Bank Austria is a main sponsor of youngCaritas Cage League, an intercultural street football project that aims to promote sports and communicate important social values for good coexistence in public spaces and in the city. Under the leadership of football coaches trained in social pedagogy, since 2010 football training has been held every week and free of charge for children and young people between the ages of 6 and 14 in football cages in Vienna.
We communicate fun in motion and joy in sport
At the youngCaritas Cage League, diversity is understood as enrichment, and a peaceful, non-violent, tolerant and appreciative approach is fostered. Via the social integrational potential of football and through common football playing, attempts are made to break down existing prejudices, resentments and aggression, to practice violence prevention, and to combat all forms of discrimination and racism. At the same time, the children are taught values such as fairness, mutual respect and tolerance, which are indispensable for successful coexistence. Last but not least, fun and enjoyment in sport are of course important. Just like the slogan: "Playing together, living together."
At present, football training is offered in 20 football cages in 16 districts of Vienna.
Bank Austria Family Fund
Help for families
Every year, every family that cannot rely on other support services can be supported by the resources of the Bank Austria Family Fund.
The Bank Austria Family Fund was founded in 1994, and is meant to provide quick and non-bureaucratic help for families in crisis situations.
Support from the fund is one-time assistance meant to enable families to manage their day-to-day life better, and to become socially integrated once more.
In 2017, a total of 34 families were assisted with an annual amount of €25,000. The amounts paid out ranged from €235 Euro to €1000. To qualify for a contribution from the fund, all other state support possibilities must already have been used up.
This is how the Family Fund has helped
These selected examples show how your assistance was implemented in 2017:
Eviction averted
Manuela would never have thought that she would ever need financial support. For many years she worked in large companies, earned well, and had no worries about money. Due to the bankruptcy of her last company, she lost her job. At first she thought she would soon find a new position, but her situation lasted for four years. With her son she was able to do less and less, because money was lacking. Debts and arrears in rent piled up to the point that she was threatened with eviction.
Thanks to the one-time financial support provided by the Bank Austria fund, she was able to avert this. Manuela found hope, and her life has been strengthened again.
Furniture
After his apartment was broken into, followed by arson, Nino, with his daughter Cindy and his life partner Anna, were able to stay with acquaintances for a short time. The family was offered a rental apartment by the district, which is also affordable for them. However, all of their furniture was destroyed in the fire. Nino's mother contributed something to provide furniture for the new apartment. But they were still missing some electrical appliances and furniture for the living room and their daughter's room.
The family was overjoyed about the financial support they received from the budget of the Bank Austria Fund, and Cindy jumped for joy when she saw her room.